This attachment turns your cordless screwdriver or drill into an easy and fast working riveting appliance.
Driller RIVET transforms the turning power of the drilling machine in strength power to set blind rivets. Avoid vibrations in the hands and arm of the operator, when is using a manual riveting tool. Driller RIVET avoid the effort you have to do when you set a rivet and It works with one action unlike the manual riveting tools that use to need more accions to break the rivet.
You'll save a lot of time, energy and money.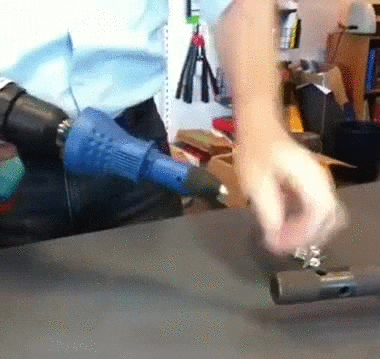 Traditional way of riveting is too laborious, inefficient and noisy. It's time to follow up the pace, riveting is now easy with Driller RIVET!


The Driller RIVET FEATURES
LOWER NOICE: No more hammer sound from the traditional riveter.
INCREASE PRODUCTIVITY: Ensures high productivity and improve your return on investment with very low installation cost. Furthermore, you are using the same drill for drilling and riveting!
IMPROVE EFFICIENCY: The rivets do not drop out. Quick release and installation, excellent ergonomics, great strength and great added features.
CONVENIENT&LABOUR SAVING: Contrasted with the traditional riveter, the insert nut makes tasks so easy when connected with drill, reducing user fatigue.
WIDE USE: Compact size and weight for areas of the manufacturing industrial fastening. Applicable to all kinds of sheet metal, pipes.
Easy to use:
1. Place the required insert on the attachment, then screw attachment onto drill/screwdriver.
2. Set the machine in reverse and when "click" sound is heard then attach the suitable rivet.
3. Turn machine to forward drive to place the rivet.
4. Set to reverse again to remove or change the insert tool from the rivet.

Here are some common uses for rivets
HOME BUILDING
If you look around your home, inside and out, you might see some rivets that you've never noticed before. They're probably all around you. They're widely used in gutter construction because nails aren't as effective for attaching metal sheets together. Additionally, if you have fiberglass roofing, it's probably held together with rivets. Window blinds, hanger straps, wind guards, and even doors and windows are often installed by riveting.
WALL AND CEILING DECORATIONS AND SIGNS
Because you only have access to one side of a wall or ceiling, riveting is ideal if you're looking to permanently attach nameplates, signs, or decorations to them. Ornamental objects, Christmas lanterns, Halloween decorations, framed paintings, photo frames, and just about any other type of décor can be efficiently and easily attached to walls and ceilings with riveting.
WOODWORKING
Wooden stands and shelves, cabinets, lockers—just about anything made out of wood can be held together effectively with the use of rivets.
Specification:
| | |
| --- | --- |
| Nozzle size | 2.4mm/0.09″, 3.2mm/0.13″, 4.0mm/0.16″, 4.8mm/0.19″ |
| Working with power drill | ≥ 15N.m |
| Light weight | 0.49 kg/ 1.1 lbs |
| MAX RPM | 1000 RPM |
CUSTOMER REVIEWS
Tested with RIVETS of the More great. responded well. acceptable.
So far been using this at work running about 500 rivets a day for 4 weeks works great.
Tested and wont carry my old rivet gun in my bag anymore.
Excellent tool great added features and easy to carry. Thank you.
I recommend. Perfect. The same as it is described.
Great product, cant wait to try.