The easy and fast way for precision metal cutting, this Double Head Sheet Nibbler Metal Cutter is light compact, sleek and uses no cords. It is powered by a hand drill so no additional power source is needed.
Double Head Sheet Nibbler Metal Cutter makes cutting jobs easier, faster and safer.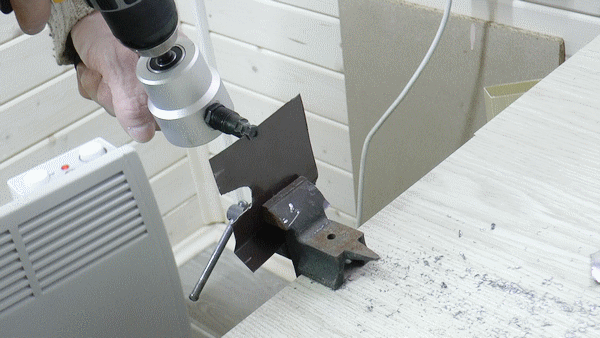 Fitting effortlessly into any standard drill, it can glide through material up to 2mm thick or 14 gauge and creates a precision, burr-free edge.
It can cut in any direction and follow the profile of the material, gutters, roof sections, complex shapes or stencils can be cut with precision as it can move anywhere within 360 degrees.
The maneuverability of this nibbler over the material makes this an incredibly versatile tool for many uses.
FEATURES:
Straight cutting and curve cutting capable
Double cutting head and 360° adjustable
Excellent cutting effect without any burrs and edges
Ergonomic design handle for comfort
Durable, efficient and safe
Compact size, easy to operate and labor-saving
Suitable for car repair and maintenance and metal sheet productions
Suitable for 1.8mm iron plate, 1.2mm stainless steel, 2mm copper or aluminum plate, 2mm plastic or plywood and so on
Can work with 8mm electric or pneumatic drills
Minimum cutting radius: 12mm
The Perfect Tool For Any Cutting Task
FACT: This Tool Replaces 9 Other Traditional Cutting Tools
SPECIFICATIONS:
Maximum Cutting Capacities: Steel plate 1.8 mm, stainless steel 1.2 mm, copper/aluminum plate 2 mm, plastic/fibreboard 2 mm
Speed: 1500 – 3000 rpm
Minimum Cutting Radius: 12 mm
CUSTOMER REVIEWS
Thank you! Ordered for dad. The quality is good, everything is as it should. The back of the packaging has assembly instructions in English.
Product exactly as in description. It went very well with 1mm thick sheet test.Thank you!
Excellent product. Good cut. It is more suitable for shape cutting.
Excellent tool great added features and easy to carry. Thank you.
Bought this as a gift for the hubster, tried it out, works as described! I can't wait to use it myself!
Goods match the description. A great tool!!!
Excellent tool great added features and easy to carry. Thank you.
If you are looking to do a personal project or just want a nice tool to work around the house, this nibbler is perfect for you. It is powerful and it satisfies all my personal DIY needs. I did not wanna spend a lot of money on a tool that I would use once in a blue moon but I am really glad I found this one and it works great and fits my budget.
Goods match the description. A great tool!!!
How does it work so good. I don't know. It's so simple. Magic. Like the internet. Wizards are included at no additional cost.
This tool is a great addition to my tool collection. Have not really had the chance to use it much, I made a mount for it to be fastened to the top of my table saw so I could have both hands free to guide the material. I like the fact that it came with extra parts and the nice metal storage box.
I've been using this product for a few weeks now. I love this tool. If you want something to cut 16 gauge carbon steel and make lots of curves. This is the tool for you. It takes time to get good with but worth the money and time.